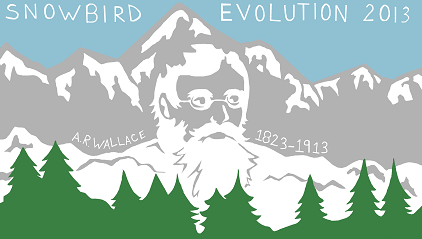 Welcome to Snowbird, Utah!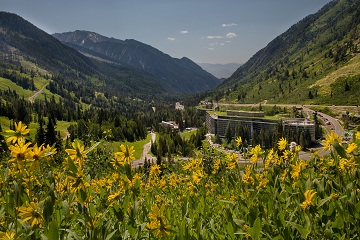 Snowbird, Utah

The
Snowbird Conference Center and Alpine Pedestrian Village
is located at 2365 m (7,760 ft) elevation, just a short distance from Salt Lake City International Airport in Little Cottonwood Canyon on the west slope of the Wasatch Range of the Rocky Mountains. Recreation opportunities abound in and near the village/conference site with easy access to hiking, biking, and skiing (conditions permitting). Within the village, all lodging, meeting rooms, restaurants, shopping, and childcare facilities are just a few minutes' walk from each other. Amenities include four lodges with over 500 rooms, 7 restaurants, 5 lounges, a full service pharmacy, post office, grocery, deli, internet café, liquor store, other concessions, and several unique gift shops. Snowbird is surrounded by spectacular views of mountain slopes covered with alpine meadows, cottonwoods, conifers, and impressive rock formations.
The Snowbird Resort offers numerous opportunities for relaxing and enjoying the views from patios, terraces, and indoor lounges. Swimming pools, tennis courts, a spa, fishing pond, playground, alpine slide, Zip Rider, bungy trampoline and more
facilities
are available within the village. The
Aerial Tram
will take you up to the top of Hidden Peak at 3353 m (11,000 ft). From there you can hike, bike or ride the tram or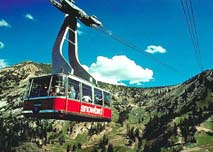 Peruvian Quad ski lift back down to the village. A short car ride away, Salt Lake City offers many dining and shopping venues as well as sight seeing attractions, including the
Natural History Museum of Utah at the Rio Tinto Center
and
Temple Square
. Exceptional sites for botanizing, birding, hiking, and wildlife viewing are within an hour's drive at
Antelope Island
,
Big Cottonwood Canyon
and
Bear River Migratory Bird Refuge
.
If you wish to venture further before or after the meeting, Snowbird is near the geographic center of the scenic Southwest, and provides easy access to recreation sites throughout the Rocky Mountains. The Red Rock country of
Moab
and
Arches National Park
are within a half-day drive, and a little further south lies
Monument Valley
- famous for its impressive mesas and buttes. Spectacular fossil deposits can be found four hours east of Snowbird at
Dinosaur National Monument
, and archaeological sites of Anasazi dwellings can be explored within a day's drive south at
Mesa Verde National Park
, Colorado, and in
Canyon de Chelly National Monument
, Arizona.
We look forward to welcoming you to Evolution 2013
See You in Snowbird!