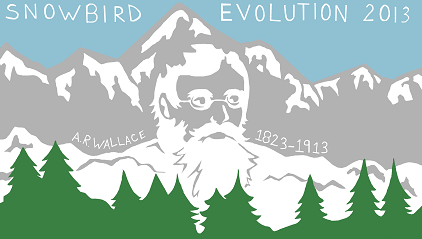 Accommodations
Accommodations at Snowbird are going fast! Currently they are sold out for Friday, night June, 21st……but we have options for you!

There are available rooms at:

Crystal Inn: Call 801-685-9300 or email: Res.Mid@crystalinns.com for reservations. The Crystal Inn offers free airport transfers, free breakfast and light dinner buffets as well as other amenities. Free airport shuttle service. Snowbird will supply shuttle service from the hotel to the meeting site.

Snowbird Resort: Call for 1-800-232-9542 reservations and be sure to tell them you are with Evolution 2013. There are still rooms available for June 23 – 25. For those staying at the Crystal Inn for Friday and Saturday and then moving to Snowbird for the remainder of the conference – transportation will be provided if needed.

Please reserve your accommodations SOON - options are becoming limited. Remember we also have a roommate matching service – email: evol2013@pdx.edu to add your name to the list and as a way to share expenses.

There are a number of options for lodging in the Snowbird Village and for camping in the Little Cottonwood Canyon. A range of room types are offered. Negotiated rates are available during the meeting and for two days before and after. All lodging at Snowbird is within a ten minute walk of meeting rooms, restaurants, stores, and activity centers within the Snowbird Village. Your reservation for lodging with Snowbird helps reduce registration costs -

please note that you will be provided with the most options if you call 800-453-3000 to make your reservation - remember to mention "Evolution 2013" when you reserve by phone. Use the group code

2BF4DY

when reserving online* to obtain the discounted rates listed below.

*Reserving online requires full payment at the time the reservation is made. One night deposit is required when reserving by phone.
For reservations call 800-453-3000 -*EVOLUTION 2013*
Room-share program now available. Email Evol2013@pdx.edu to receive information and access to an online spreadsheet of people looking for roommates.Individuals are responsible for finding their own roommates.

AIRPORT TRANSPORTATION: Airport shuttles may be arranged through Snowbird Central Reservations (800-453-3000) up to 48 hours prior to arrival. Current round trip pre-paid price is $68.00 per person, plus driver gratuity. A 5% Group discount off 2013 rates will be extended. Prices subject to a gas surcharge should local gas prices increase above $5.00 per gallon. Walk-ups are accepted on a space available basis at the Canyon Transportation desk located in the baggage claim area of the Salt Lake City International Airport. Cancellations received within 48 hours of arrival are non-refundable.
**All condos and loft rooms have sold out. There are still studio, regular, and king rooms available in the Snowbird Village. Check this web site for updates on room availability**

Alta Lodge

Alta is located a mile or so up valley from Snowbird. Alta Lodge is offering a range of room options to our conference attendees. Shuttle service will be provided from the lodge to the conference center at the beginning and end of the daily talk and poster sessions. Complimentary continental breakfast, coffee and tea is included with lodging rate. Taxes are not included in the prices quoted below. Call 800-707-2582 for reservations.

Lodging Room Rates: Priced per room, includes transportation to/from Snowbird.
$106/night – Standard East (one king bed or two twins) or Middle Wing (queen + double bed) room
$134/night – Large Middle Wing Corner room (three beds)
$146/night – East Wing Corner room (with private balcony and fireplace)
$40/person/night – Dormitory bunk (shared room and shared bath)
$30/night – Rollaway bed (includes transportation and continental breakfast)

Snowbird Village
Studios ($116*) located in the Cliff Club (west wing of the Cliff Lodge) have a queen sleeper sofa, full kitchen, bath and balcony. More options may be available if you call 800-453-3000. Sold Out

Standard rooms ($136*) are located in The Cliff Lodge and The Lodge at Snowbird. These rooms come with two queen-size beds, or a queen and a queen sleeper sofa. All standard rooms come with a small refrigerator. A limited number of spa-level standard rooms are available in the Cliff Lodge. More options may be available if you call 800-453-3000.

King rooms ($156*) are located in The Cliff Lodge and the Cliff Club (west wing of the Cliff Lodge). Most of these rooms come with one king-size bed and a queen sleeper sofa. Spa-level king rooms have one king bed. All king rooms come with a small refrigerator. More options may be available if you call 800-453-3000.
*All room rates include a $7 fee to cover costs for high speed wireless internet in the guest rooms and public spaces, valet and self parking, 15 minutes business center computer use per day, incoming/outgoing faxes, local/long distance/800 phone calls, USA Today in lobby, resort-wide shuttle, tennis courts, pool/whirlpool and fitness center usage. These room rates do not include applicable taxes.

Camping
A limited number of campground sites are available in Little Cottonwood Canyon. Reservations can be made for Tanners Flats and Albion Basin campgrounds. For more information visit Outdoors in Utah Please remember that dogs are not allowed in Little Cottonwood Canyon including the campgrounds and the Snowbird Alpine Village.